COMBAT CARGO
20 BEST CARGO PANTS FOR MEN IN 2020
A good pair of cargo pants are a streetwear staple every man should have in his wardrobe.

More versatile and generally more comfortable than jeans, cargo pants can look particularly good when paired well with other understated garments. Perfect for outdoor wear they should be long-lasting and comfortable.

While some cargo pants have a great cut and feature hard wearing and weather resistant fabrics, there are now a plethora of poorly made cargo pants with unappealing cuts, ugly camo prints and heavy fabrics.

We've all been there. Bought a pair of cargo pants only to realize later that the cut is unflattering or the material has you sweating like a horse.

This curated list of cargo pants highlights only the best men's cargo pants based on three key desirable features: Style, value and quality.

As with all Rockin' Camo lists, pants for all budgets are featured and listed in no particular order.
1. Carhartt Aviation Pant
Carhartt makes the list more than once for being street certified and workwear tough.
The Aviation Pant is our favorite - a tailored cargo pant constructed from a lightweight cotton ripstop fabric. Ripstop is incredibly durable and more and more brands are introducing ripstop lines.

Tough cotton, it has been rinsed for added comfort without sacrificing its durable qualities.
The Carhartt Aviation Pant is a contemporary styled cargo pant that features the practicality of multiple pockets and durable fabric. A woven Carhartt WIP label is featured on the right leg pocket.
2. G-Star Rovic 3D Straight Tapered Pants
G-Star is a Dutch designer clothing label with a good range of military-inspired streetwear. The company bills its Rovic 3D straight pants as "a classic military staple reinvented for the streets".

These contemporary tapered cargo pants feature a precise tapered fit, a zip fly, roomy thigh pockets, articulated knees, and adjustable hems. Soft cotton lines the waistband ensuring maximum comfort.
3. St Goliath Lyons Stretch Slim Cargo Pants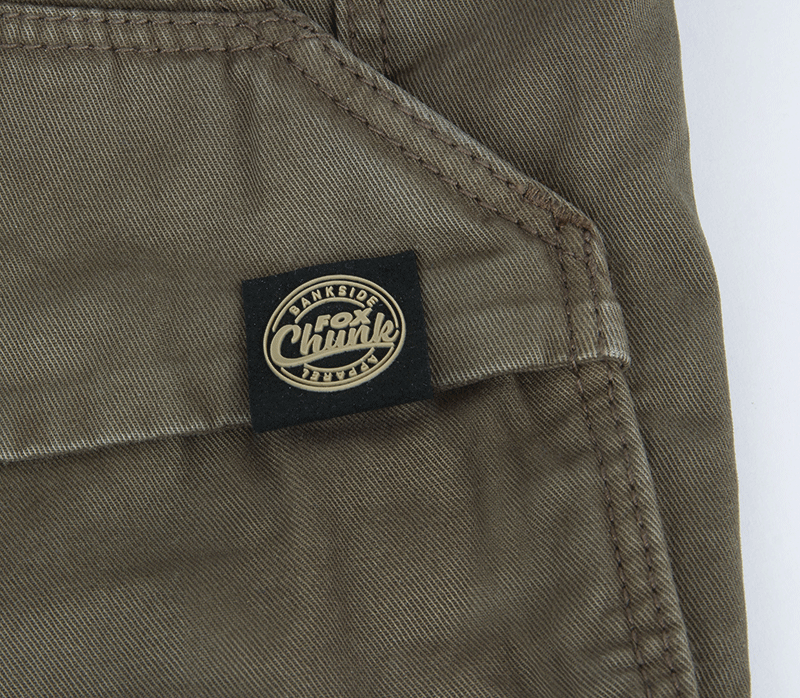 Fox Chunk is actually a fishing brand but you wouldn't know it to look at their range of quality, military-inspired apparel.
These 100% cotton heavy twill cargo pants feature a tailored fit with a semi-elasticated waist for added comfort and they are oil washed for a softer feel fabric. The waist features belt loops and handy utility pockets for storing essential items.
4. Vans Draft Cargo Pants
From iconic skateboard and streetwear brand, Vans, the Draft Cargo Pant is a 100% cotton oxford pant featuring multiple pockets and a straight fitting chino cut with plenty of room to move.
A straight fit, the Draft Cargo features two side pockets and one on the back with an all-over camouflage print.
5. John Elliot Cargo Pants
A relaxed fit cargo pant in washed cotton poplin, a strong fabric with crosswise ribs that typically give a corded surface.
These pants feature knee pleats, two slant pockets at the front, two pockets at the seat, and dual-use cargo pockets with a bucket opening and snap flap pocket.

Made in Japan, these cargo pants also feature an adjustable waistband and hems with drawstring closures.
6. Dickies New York Cargo Pants
Since its beginnings in 1922, Dickies has transformed itself from a small work overalls company into the biggest supplier of workwear worldwide.
Fast forward to 2019 and the brand has also become popular for in streetwear circles.

These stylish 100% cotton cargos are enzyme washed, a process that gives the fabric a softer more worn look.
With a relaxed fit, they feature two back pockets with flaps and two large utility cargo pockets.
Dickies prides itself on the durability of its apparel and the New York Cargo Pant is built to last.
7. Carhartt WIP Regular Cargo Pants
Like Dickies, Carhartt made a name for themselves producing apparel for heavy industries like construction. While one of the pricier cargo pants on this list, they are also one of the best in terms of durability and style.
The Regular Cargo Pant has been tailored to look effortlessly cool and would probably look more at home downtown than on a worksite, but they are one of the few options on this list that would suit both applications.

The Regular Cargo Pant is constructed from a lightweight cotton ripstop fabric. This tough cotton has been rinsed for added comfort without sacrificing its durable qualities.

A Carhartt staple, these cargo pants also come in a wide range of cool colors and camo prints.
8. Carhartt Cargo Jogger
Carhartt makes the list a second time with these lightweight hybrid cargo joggers. The bastard child of sweatpants and cargo pants, Carhartt Cargo Joggers feature elastic in the waistband and a drawstring for ease of taking on and off.

These stylish cargo pants are probably the lightest and most comfortable on this list and a very good option for hot weather locations where heavier fabrics are unwearable.
The front pockets and single back pocket are zipped, so things won't be falling out if you do intend to jog in these.
9. Enshadower Paratrooper Pants
Enshadower is a Chinese wholesale brand so the quality of fabrics may not be as good as some on this list but stylewise the paratrooper pants make the list on originality alone, offering an alternative to classic cargo pants or even most streetwear cargos.

Crafted from a breathable and durable polyester blend, these pants feature multiple cargo pockets, double welt side pockets, snap-fit adjustable webbing strap at the knee, a zipper fly and a button fastened waistband with loops and rib-knit cuffs.
10. Element Legion Cargo Pants
From the trail to the streets, Element's signature Legion Cargo Pant is another good quality, practical offering with large pockets and adjustable drawstring cuffs.

The Legion is crafted from durable cotton ripstop material and finished with tonal tree logo embroidery at the left cargo pocket and a small label at the back right flap pocket.